Galoots
Spent most of Easter weekend outside, playing with two of our favourite toys: trees and fire.
Thursday night we departed for our vacation/retirement property up northaways, bout halfway betwixt Kingston and Ottawa. It was time once again to make a run of maple syrup. This was Round Two, having gone up 2 weekends before to tap the trees, and last weekend for the first batch. Despite the dire warnings of ice storms and impassable roads we pushed on. It took a bit longer than usual, you just have to drive according to the conditions. We saw several people who did not heed these conditions, they were parked at odd angles in the ditches alongside the highway. One of them was parked upside down. When we got to our destination there was an inch thick layer of ice on the front of the car, completely obscuring all air flow to the radiator. It's a wonder the poor car didn't overheat. Ah such are the joys of living in the Great White North.
I was up early on Friday morning setting up the fire pit, lighting the fire and getting the first couple of buckets of sap into the evaporation pans. Our setup is really simple, a couple stacks of fire brick, some angle iron, and two stainless steel steam table pans. In order to make the fire hotter and get things done in a couple of days instead of a week we use a forge blower to boost the output of the fire. Works like a charm! Lots of dead ash trees (sadly) for fuel, which I had chopped into convenient hunks in the dead of winter. I spent a lot of time with the splitting maul and hatchet making little pieces out of big pieces.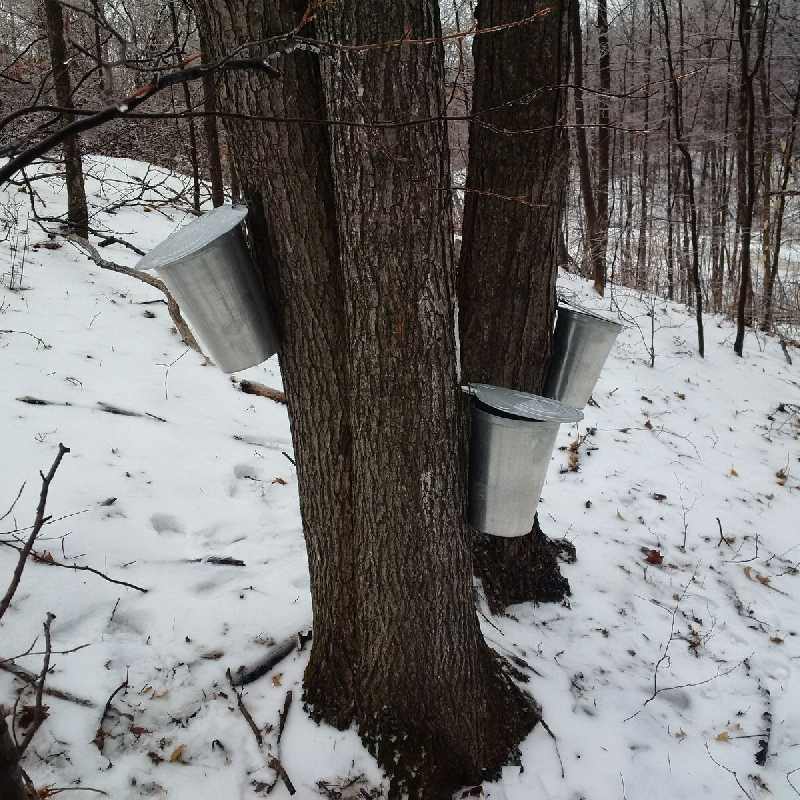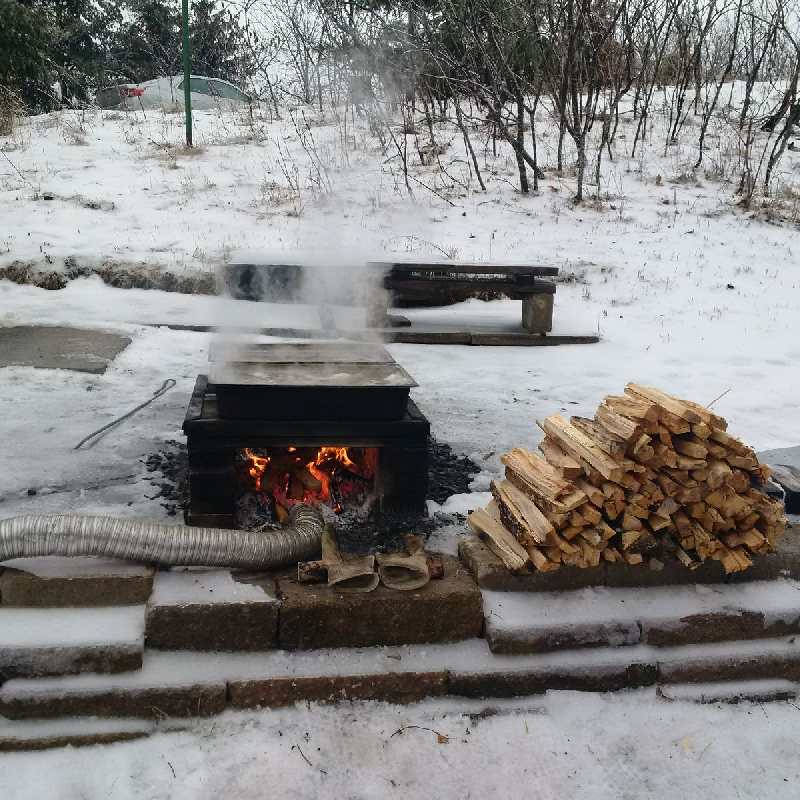 Most of the sap was partially frozen, so it was a long tedious process to melt and boil it all down. We have 25 buckets, not all were full, so we ended up with 4.5 litres of #3 Dark. Since is it exposed to all the smoke and ash it has a very distinct smokey flavour. We don't even like commercially produced maple syrup anymore, it's too bland compared to ours. Low tech is sometimes better, eh?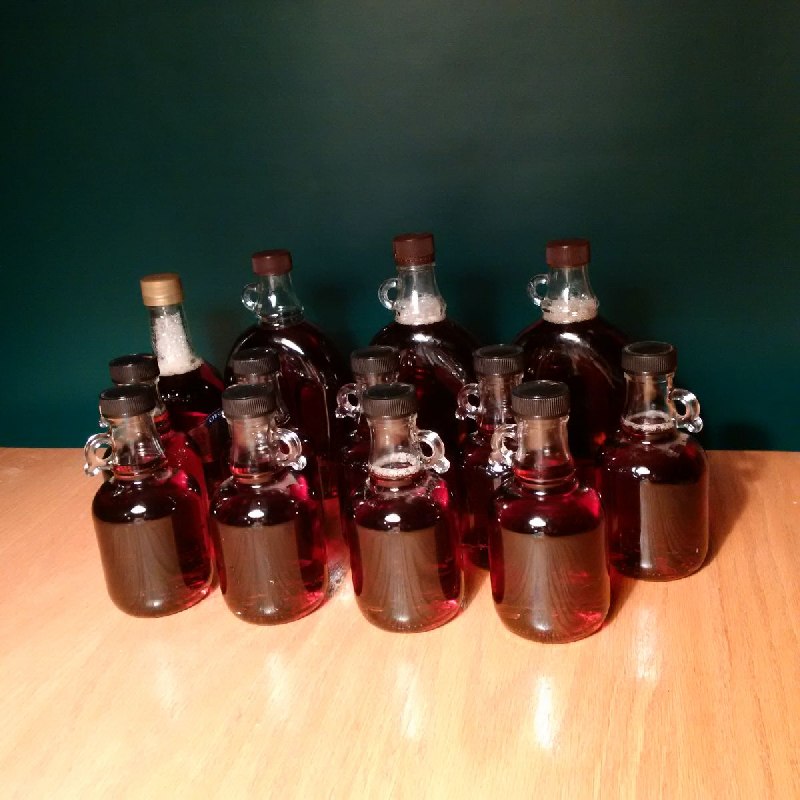 The neighbours were busy cutting broken and downed trees along the back lane. A lot of the trees were damaged by the ice storm. They built a big bonfire to get rid of the slash, and were cutting anything decent for next year's firewood pile. Gary wandered over and asked me if we still carved, and I said Yes! Turns out a small "cherry" tree had come down, about 8 inches in diameter with two main trunks (it had split down the middle). Did I want some? Yes! So I took a 4 foot long piece about 6 inches in diameter for spoon carving. It's not black cherry, probably some other variety, smells very green, and has banded fibrous bark. Doesn't matter what it is, it's green close-grained hardwood, so it will be fine for spoons.
We came home last night quite late, as the post-boiling cleanup is a drawn out affair. I painted the ends of the cherry with some white glue to stave off checking. This was at about 2 AM. This morning I pulled the Spear & Jackson buck saw off the wall and proceeded to cut off a hunk for some spoons. I made two cuts to avoid a huge knot, then repainted the freshly cut end with more glue. I debarked and quartered the piece I cut off, and started rouging out a spoon with the drawknife & shaving pony. This stuff cuts really easy when it's fresh. Then it was off to the front porch to sit in the morning sun and carve the rest of the spoon. No plan, just carving for the fun of it. The spoon is roughed out now, needs to dry a bit before applying the finishing touches.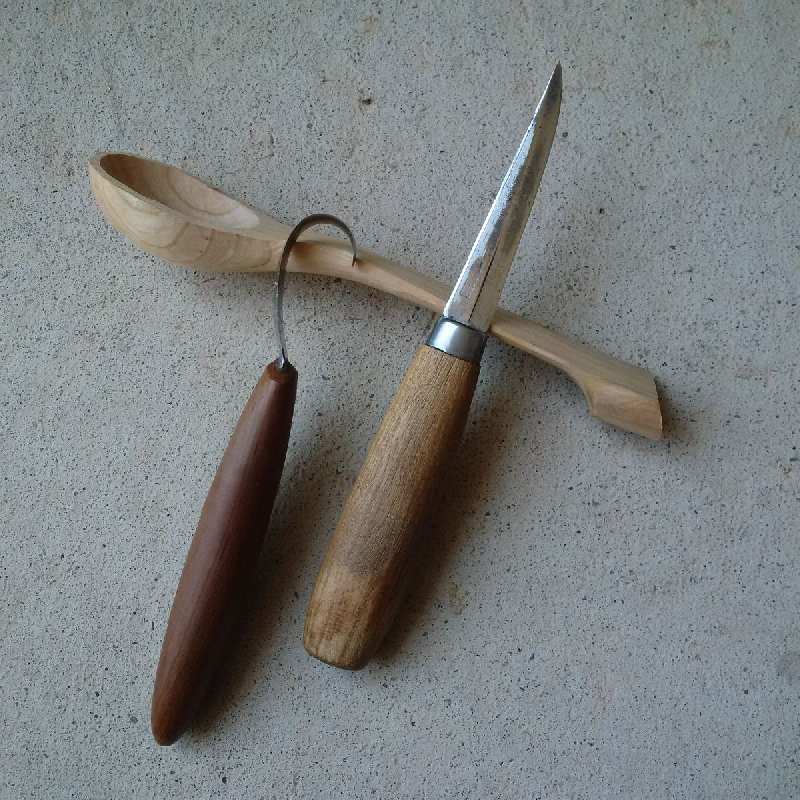 Darrell