In a recent edition of The Bodger's Gazette there was an article about building a Currach, a skin-on-frame boat similar in execution to a coracle, but in the author's case it was a 14 foot rowboat.
I was on holiday last week, and I spent about 4 hours altogether making a prototype Currach of my own. Most of the work was accomplished with a brace & bit and a hatchet. I harvested a bunch of saplings from the woods for the bent parts of the frame. I had a huge spool of cotton string for the lashings, and some old blue tarps and 4-mil plastic sheeting for the "canvas". For the gunwales I used some 1X3 and 2X3 leftover construction material from last year's Gazebo project.
Here is the completed frame. Since this was a proof-of-concept I didn't do more than make a big rectangular tub that would float. I can save the creativity and art for next time round.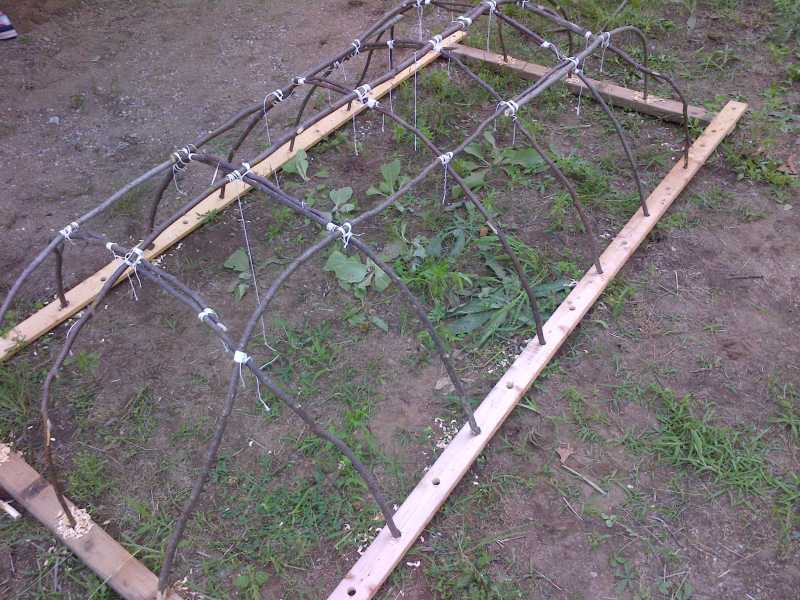 I put a layer of blue tarp on to protect the plastic sheet from the knots and pointy bits of the frame. This worked quite well but cost me a few ounces of weight. Not that it matters much, as I was able to wear the finished craft like a hat it was so light. Turns out it does not paddle worth a d*mn but it rows beautifully. Or maybe my sculling skills are just plain rotten.
I christened it "Improbable" (my second choice was "You Get The Idea"). That's my wife in the background laughing at me. Not least because I outfitted the new craft with all the requisite safety gear required by local laws.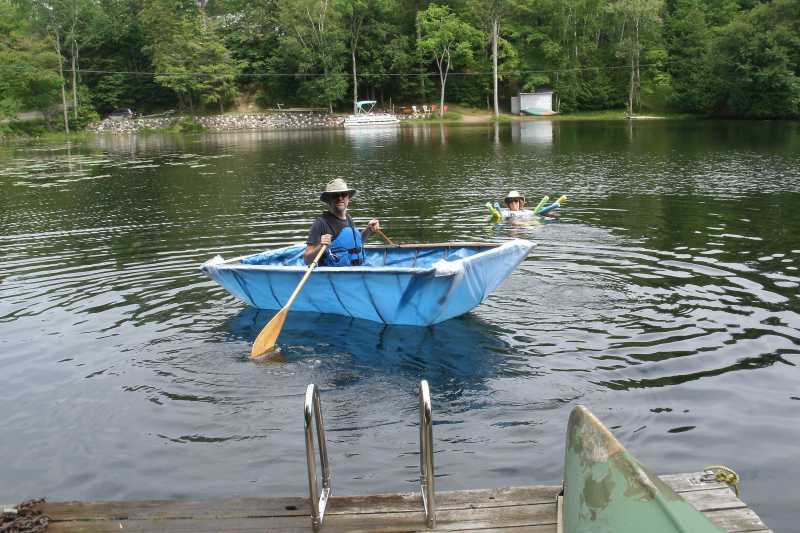 Not sure if the video will work, but here goes:
http://galootcentral.com/index.php/component/option,com_seyret/task,videodirectlink/Itemid,55/id,19/