Hi all,
Pretty quiet around the forum lately, so I thought I would post some of my progress.
I was at the Bodgers Ball in 2015, and I got to have a go on a number of lathes. And I decided that I wanted to build a new lathe at home. My old one was built 17 years ago, after seeing one other lathe, and mine was made of scrap and workshop detritus. It did, however, work. This made me a believer, and convinced me that anything even remotely lathe-shaped would do the job. I persevered with my awful lathe for ever so long, and then I was overwhelmed and inspired by what I saw at the Ball. I took lots of pictures of people's lathes, so I had plenty of great ideas awaiting my eventual lathe build.
Finally, I completed enough of my outstanding to-do-list items and I had time for a new lathe. I contacted one of my Bodger acquaintances (Kevin) and he very kindly sent me a lot of pictures and descriptions of his lathe and how it was built. Armed with a much better idea of how to put together a lathe, I ended up with this on my front lawn this week: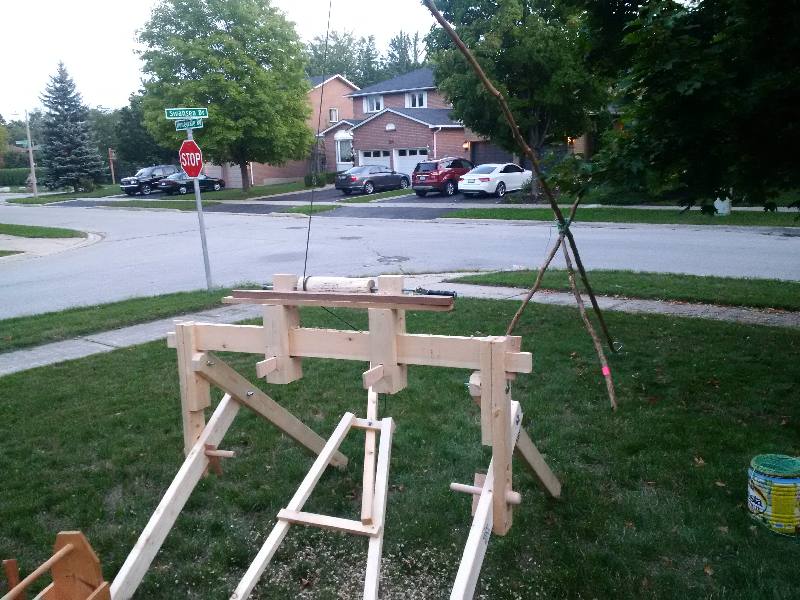 I have to make a better tool rest, the one pictured is literally a couple of pieces of scrap lumber laid across. The neighbours didn't stop or look or ask, they have seen enough strange things in my yard over the years (like the forge and the trebuchet) that they are not surprised by anything I do now.
"There's one in every neighbourhood. In mine, I'm him."
Darrell