This past weekend was my annual Galoot Xmas BBQ, where a few of my friends visit my humble shop to play with hand tools and wood. December in Canada is usually quite cold, so our activities are usually indoors, and often around the workbench, involving planes and chisels. Fun stuff like carving, mortising, sawing, and planing moldings. This year, one of my guests asked me if I could set up my lathe in my basement shop, as she wanted to share some of her experiences at Robin Wood's bowl turning class at the Northwoods School in Minnesota. My lathe is a light duty spindle lathe, but It will handle small bowls, so I set it up with the Bodger's Muddle and tried turning a random scrap of ash to see how it would all work out. A bit cramped in terms of space, but certainly it would work.
Then I checked the weather forecast and the report said it would be 10C on Saturday! Sounds chilly, but for December in Canada that is downright tropical. On Saturday morning I dissembled my lathe and hauled it out to the front yard. I could have set it up in the back, but I have to consider my neighbours. "There's one in every neighbourhood. In mine, him." After lunch I went outside to await my guests, keeping busy by practicing some spindle turning. I was turning some recently cut ash, but I suspect the tree was standing dead as it was already fairly dry. A few of the neighbours stopped by to wonder at my antics. The kids all thought it was some kind of siege weapon, ha ha.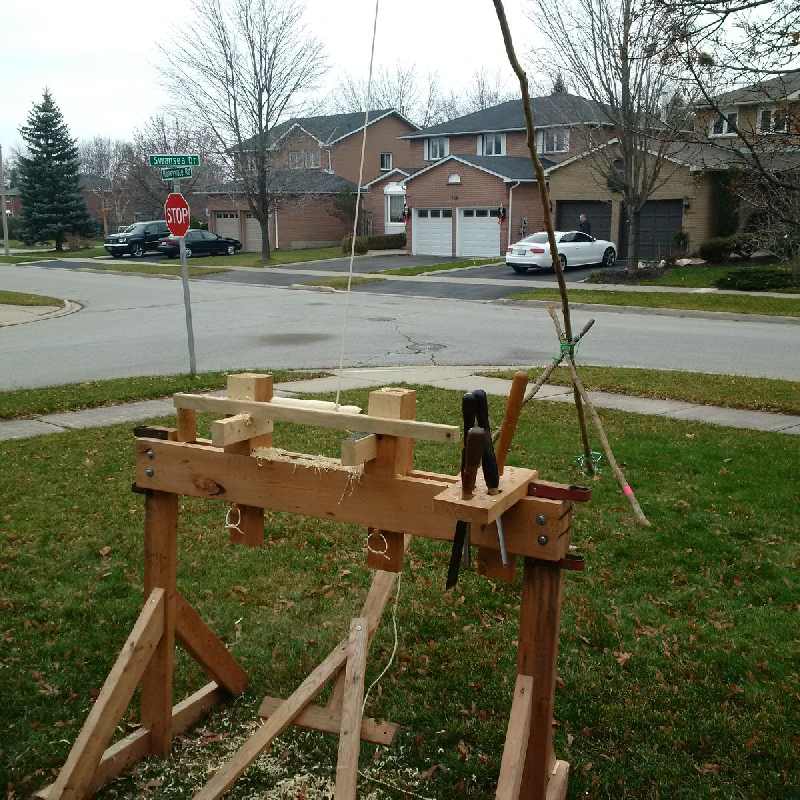 Dan, Esther, Matt, Mihai, Richard, and Rob showed up. Esther brought pictures and samples from her bowl turning class. She also brought some tool steel and her micro-forge. I supplied the propane, anvil, hammers and tongs. Dan took up the hammer and forged out three hook tool blanks. We managed to complete one of them and got it reasonably sharp.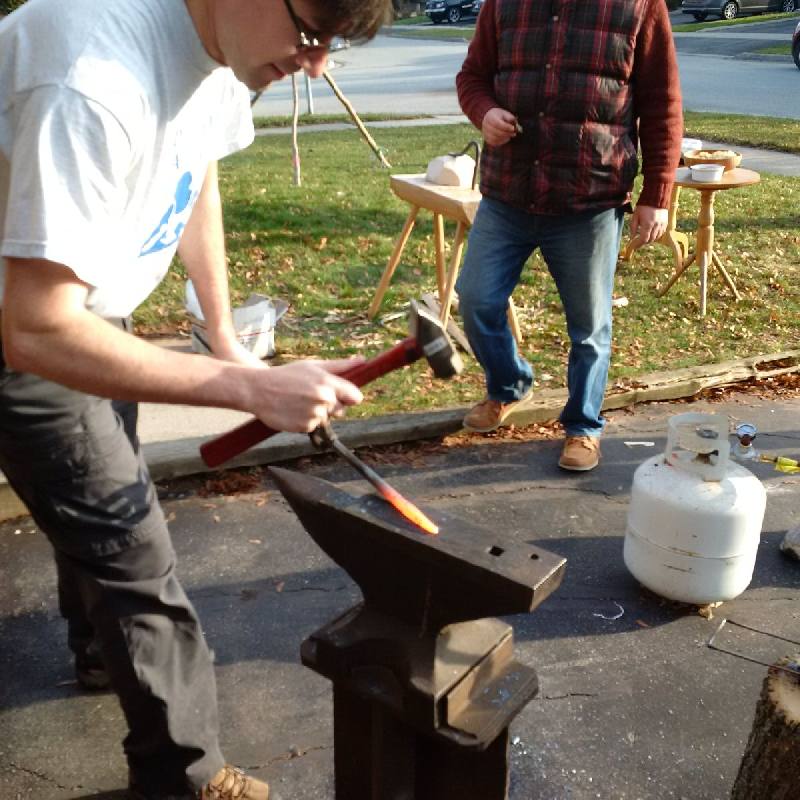 Meanwhile the rest of our motley crew set up some tables for drinks and snacks, and prepared a bowl blank. I had made a bowl mandrel Thursday night, based on Esther's request. We eventually got the bowl blank round enough and balanced enough to mount on the lathe. We had to take it off and do some more axe work on it initially. Seems our axe skills are lacking. My pole needs to be a bit stouter for bowls, as the return was slow. We stuck with it and managed to get part of the bottom of the bowl round. Then I broke the hook tool - oops.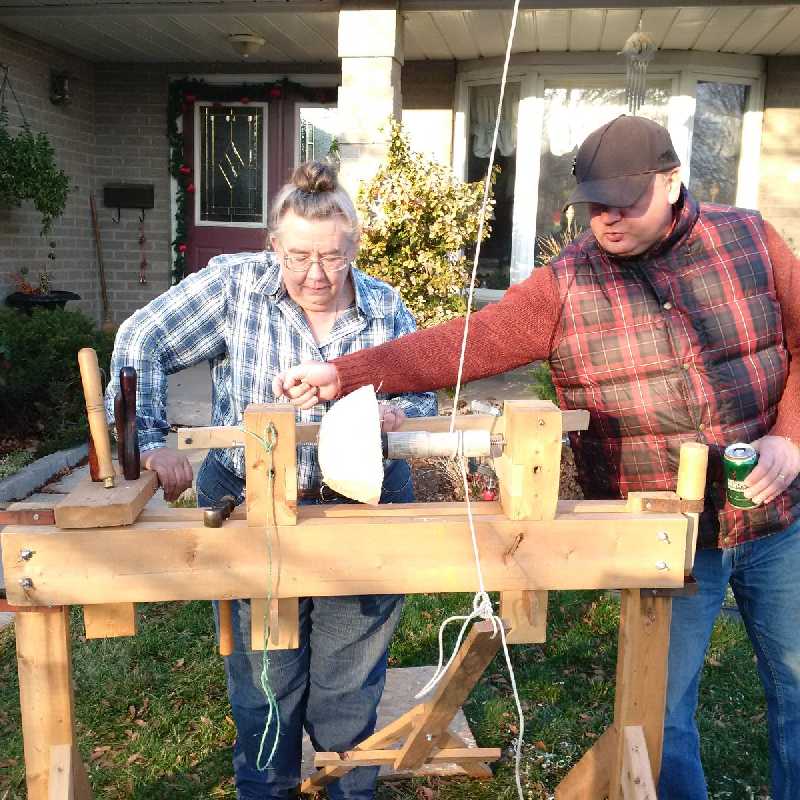 At that point we noticed that the warm weather had passed, so we packed up and moved indoors. The roast turkey was nearly done as well, so we were soon sitting round the table enjoying a feast. Once we had demolished the turkey, the cookies and chocolate covered bacon were passed around until we could no longer move.
A rare opportunity to enjoy a warm spring day in December, fellowship and fine food.
Happy Christmas to all!
Darrell