I like using the pole lathe, but Life has a habit of getting in the way when I try and do any woodworking stuff. I brought my lathe to the SBFG event last weekend (large International Scout Camp with a war of 1812 re-enactment theme, see
http://www.sbfg.ca
for details) but the weather did not cooperate. At all. The whole of Saturday it rained, from 1 AM till 8 PM. All the available shelter space was for people, no room for a lathe.
This weekend the weather is perfect! And I have a pile of still-green-but-not-for-long stock to use up. It's some kind of maple. probably what they call a Norway maple around here. I had split and shaved it to roughly round before last weekend's camp. And dragged it a couple hundred kilometers in the vain hope that I could put on my puffy shirt and breeches at camp and play Bodger.
So this morning I set up the lathe in the front yard. The better to frighten the neighbours, eh? I planned on making a pair of tea tables or candle stands. Or, I guess they could be beer or cider tables too, depending on your tastes. My daughter too the pictures with my cell phone, sorry about the poor quality.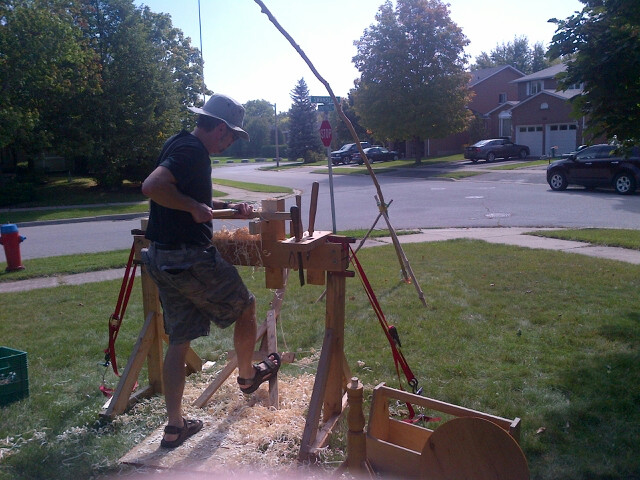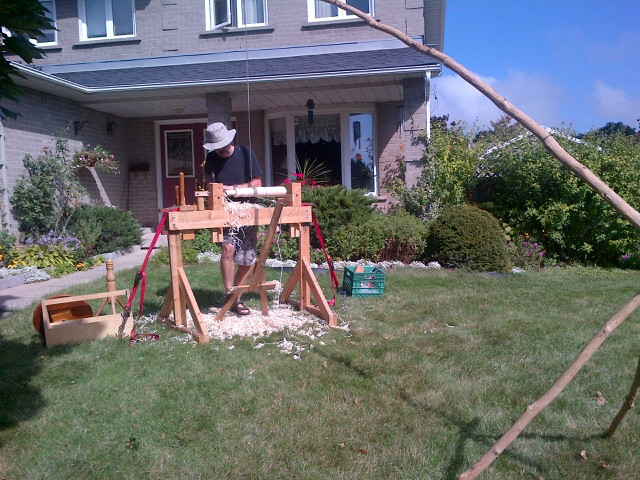 Partway through the first table column I was stung by a yellow jacket wasp. Owch! I took some antihistamines and waited for a bit, no reaction beyond a sore finger, so back to work I went. A bit more careful to watch out for those d*mned wasps. I finished the parts for one table before lunch, and went back out in the afternoon to make up the second set. The day warmed up but the tree kept me shaded in the afternoon. A few neighbours stopped to chat and watch me work. Nobody wanted to give it a go, but they seemed quite interested and impressed. The kids all thought it was a catapult. "There's one in every neighbourhood. In mine, I'm him."
I took the pieces to the shop this evening and bored the holes and assembled the tables. They ended up 26 inches high. The tops are 12 inches in diameter, the width of the scrap pine I had at hand. Now all I need to do is slather on a couple coats of shellac. I am so very much out of practice, that these awful shapes were all I could coax out of the stock.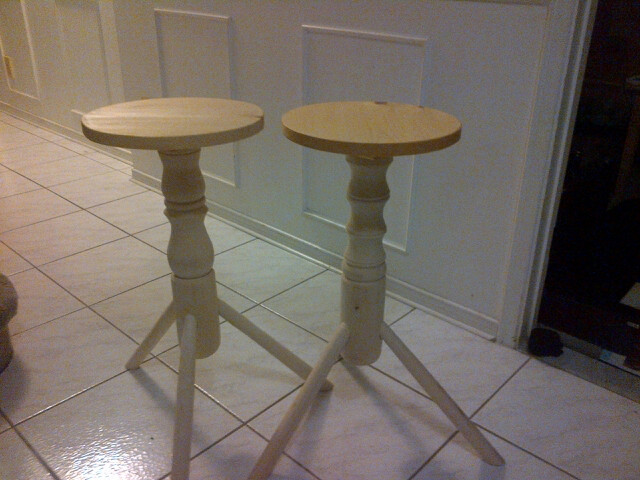 One for my wife, one for a friend. And there are enough bits left to make a couple of stools.
Darrell